Our Ethos and Values
We aim to develop confident and articulate young adults with the social, emotional and academic skills needed to face the challenges of the twenty-first century. Fernhill is a happy and friendly school where students thrive. Our rich academic curriculum, strong and supportive pastoral care and wide range of extended activities are designed to educate, encourage and empower our students.
We aspire to provide each student with the best educational opportunities that transform potential into academic and social achievement. Our ethos is simply;
'Be the best you can be'
The key principles that underpin our ethos are the values of Confidence, Independence, Respect, Aspiration, Honesty, Community, Equality and Resilience.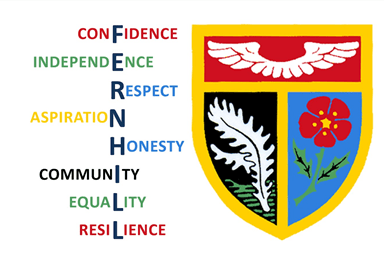 Confidence - to think positively and to try things, even when learning is hard
Independence - to develop organisation, time management and thinking skills so that we can be self-sufficient, overcoming challenges ourselves
Respect - all members speak politely to each other and value everyone
Aspiration - to be the very best you can be, rewarding effort and hard work
Honesty - to be trustworthy and know right from wrong
Community - a sense of belonging
Equality - ensuring that every individual has an equal opportunity to make the most of their lives and talents
Resilience - not giving up, sticking with something to overcome hurdles
This can be summed up in three words, ready, respectful and responsible. These three words form the basis of our behaviour policy.